Stafsjö introduced the first knife gate valve (KGV) in 1928. Today, many years later, "knife gate valve" represents more than just one type – there's a wide selection of suppliers, types and shut-off techniques to choose from on the market. At Stafsjö we're focusing our resources on four different shut-off techniques we believe best serve our industrial customers and markets.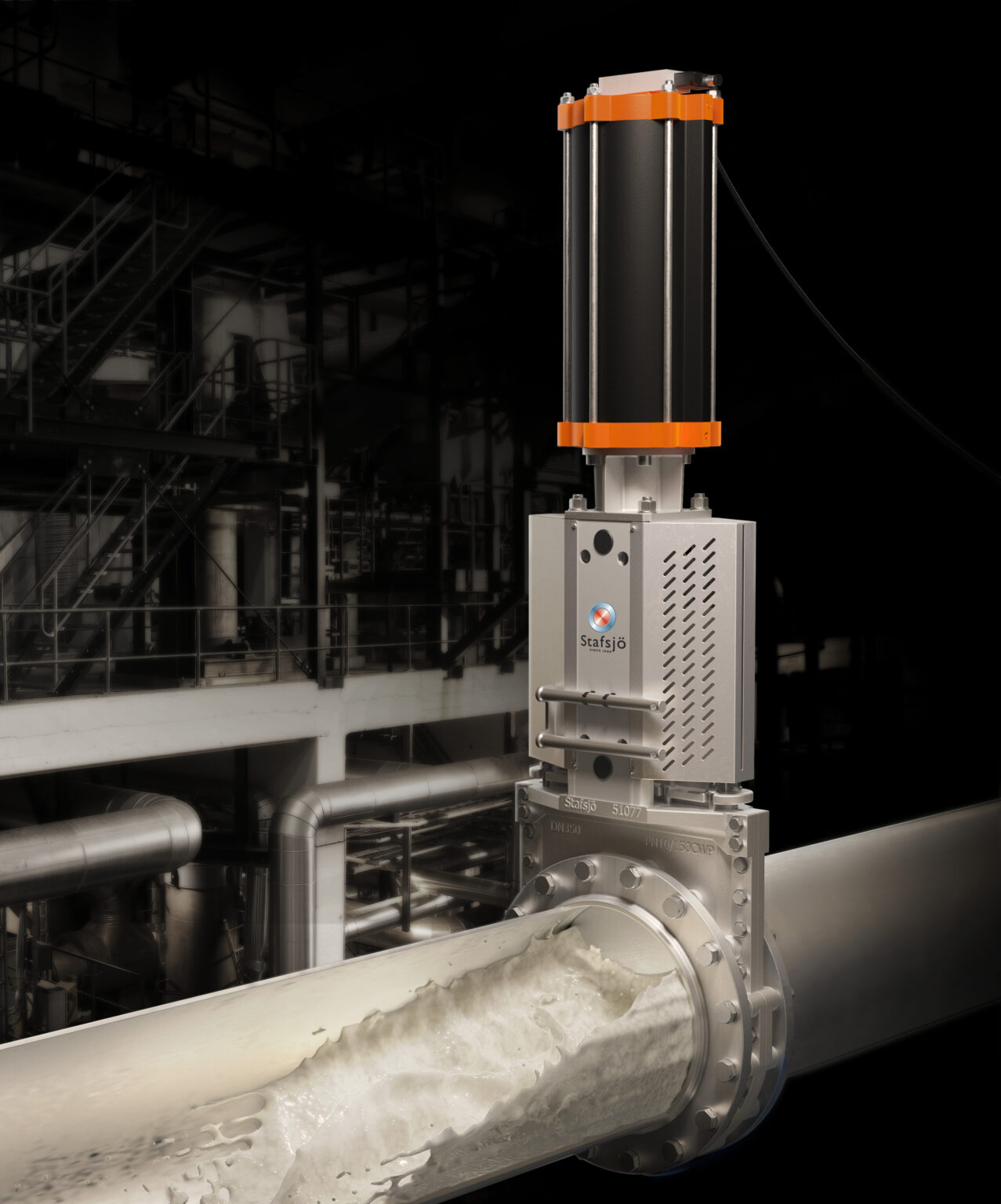 What is a knife gate valve?
The primary purpose of the knife gate valve (KGV) is to isolate the flow in a pipeline. The gate cut through the flow and seal against a sealing surface (seat) in closed position. It is designed to operate on/off even if they in rare occasions also are used for modulating purposes.
The knife gate valve has in general a low flow resistance. When it is in open position the gate is completely retracted from the bore which provide an excellent flow path for the media with minimal pressure drop. This makes them beneficial to use in industrial systems handling difficult fluids with solids that be viscous, abrasive or corrosive. Sometimes they are also used on bulk and solids only.
Comparred to ball valves, gate valves and pinch valves, knife gate valves offers in general a short face-to-face and a relatively low weight (although some can weigh several tones kg).
Within the knife gate valve field there are different shut-off techniques to choose from, on top of all material options. Selecting suitable knife gate valve technique have direct impact on performance and service life, therefore also high influence the industrial user's productivity, efficiency and safety targets. From our perspective, one knife gate valve type does not work everywhere. This is the reason why we have developed a range of shut-off techniques to choose from:
• Uni-directional
• Bi-directional
• Bi-directional, through-going
• Bi-directional, push through
This knife gate valve range have been designed with uni-directional flow in mind even though some of them can deal with certain reverse flow as standard. Installation position and pressure direction are important factors to consider when choosing uni-directional knife gate valves. Independent if it is dry media or liquids, the uni-directional knife gate valves will provide high operation reliability and zero leakage shut-off.
This is the range to choose if you are searching for allround and compact knife gates valves for liquids. All provide a smooth flow path with minimal flow impact and bi-directional zero leakage isolation whenever needed. Some of them are also available in fully lugged versions for dead-end services.
Bi-directional, through-going
This range enable high operation reliability on highly concentrated media and static media columns. The gate is able to cut through a static media column and provide zero leakage shut-off independent of pressure direction. Several high alloy material options are available on request.
Bi-directional, push through
In tough abrasive mineral processing applications, the most durable knife gate valves are the push through slurry valves. These form a rubber lined extension of the pipe system when they are in opened position. When cycling to closed position the two seats are displaced axially forming a seal with the gate until it forms a complete closure – 100 % tight in any pressure direction.
It is normal for these valves to discharge media externally through the port in bottom of the valve body when they cycles open/close. This prevent build of solids and enable the valves to operate through a wide range of solid concentrations.